Undoubtedly, outsourcing will be one of the trends for 2023. Some reports indicate that the demand for software outsourcing will increase by 70% next year. The reasons for this growth in demand are related to various causes such as:
Talent shortage
Economic and geopolitical factors
High competitiveness
And the constant need for innovation by companies.
On the other hand, this increase in demand is coupled with a global increase in rates that strongly affects the technology industry.

In this article, we will analyze in more depth the macro factors that cause the increases in technology rates, but we will also give a series of arguments to understand the reasons why outsourcing is a very good option for companies in 2023.
What are the Macro-factors Causing Technology Rates to Increase?
In 2022, software production costs increased by more than 70%, and the same is expected in 2023, though at a lower percentage. The reasons for this increase are not unequivocal, and it has resulted not only in an increase in the cost of developers but also in the need for outsourcing companies to adjust their rates.

However, the location of each vendor has a logical relationship with the price since each region experienced in different ways economic uncertainty and also geopolitical conflicts.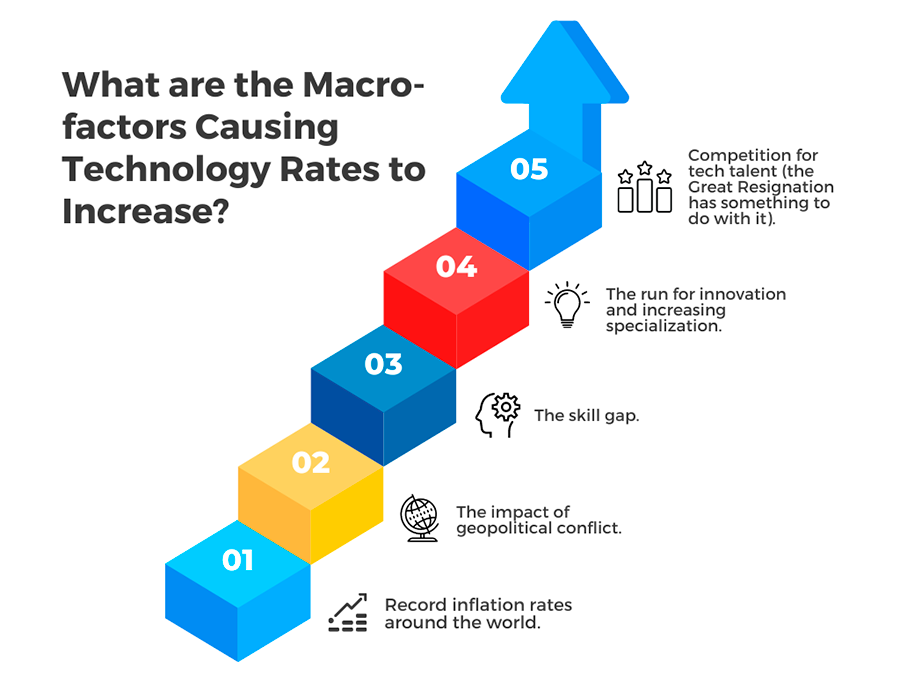 Next, we will see what were the 5 main causes that generated the increase in the rates of software developers:
Record inflation rates around the world:
With record inflation rates around the world, salaries and software development costs have also increased by 6-10% according to estimates. For this reason, US companies are evaluating alternatives to complement their development teams (or directly build them) outside their borders in countries where the costs are more accessible to their budgets.
The impact of geopolitical conflict:
The war between Ukraine and Russia caused changes in the talent supply chain since Ukraine was one of the large pools of engineers where many companies nurtured their development teams. However, the conflict caused recruiters to focus on other regions such as Latin America.
The skill gap:
The shortage of talent is a problem that was aggravated by the war because the search for talent had to be migrated to other regions. According to Wall Street Journal estimates, there are currently close to 1 million unfilled tech jobs in the US. And according to research by Korn Ferry, there will be 85 million vacancies in tech jobs by 2030.
The run for innovation and increasing specialization:
Innovation is an important aspect for businesses looking for a competitive advantage in the market. Innovation allows for improving or creating from scratch new products, processes, and methodologies. But the cutting-edge technology requires the right skills and expertise. According to a Gartner report, 64% of software executives point out that one of the main barriers to the adoption of emerging technologies is the skill gap.
The tough competition for tech talent (the Great Resignation has something to do with it):
In a market like the technological one where there is a talent shortage, it is very complex to recruit but also retain the best professionals since they have many opportunities and are also usually very expensive.

This situation in the IT market is ignited by the trend that began with the pandemic that was called "Great Resignation", in which millions of employees resigned from their jobs due to causes such as burnout, toxic work cultures, lack of flexibility, or few opportunities for job growth.
Remote Work, a Solution for the Increase in the Rates
After the pandemic, remote work was a boom and one of the keys to resuming economic recovery after the quarantines in different countries. It is difficult to imagine a 100% in-person work market in the coming years, taking into account that flexibility at work is one of the main factors that make employees want to continue in their position or even when choosing a new job.
According to research for the National Bureau of Economic Research (NBER), employees value remote work so much that they are willing to trade pay increases for the ability to work from home. Even when choosing a job, flexibility is one of the main reasons to consider: according to a Mckinsey survey, 87% of respondents said they would accept a remote job.
You can broaden your search range while spending less
In an inflationary economic context, it is normal for workers in all industries to demand wage increases, since each month they lose purchasing power. However, companies have an ace up their sleeve to contain salary costs: the possibility of continuing to bet on remote work.
Furthermore, adopting the remote work modality also facilitates talent recruitment and cost optimization. We know that finding certain IT roles is very hard work, but expanding the search for talent to other regions of the world with a large pool of developers and with lower salaries than in the US is.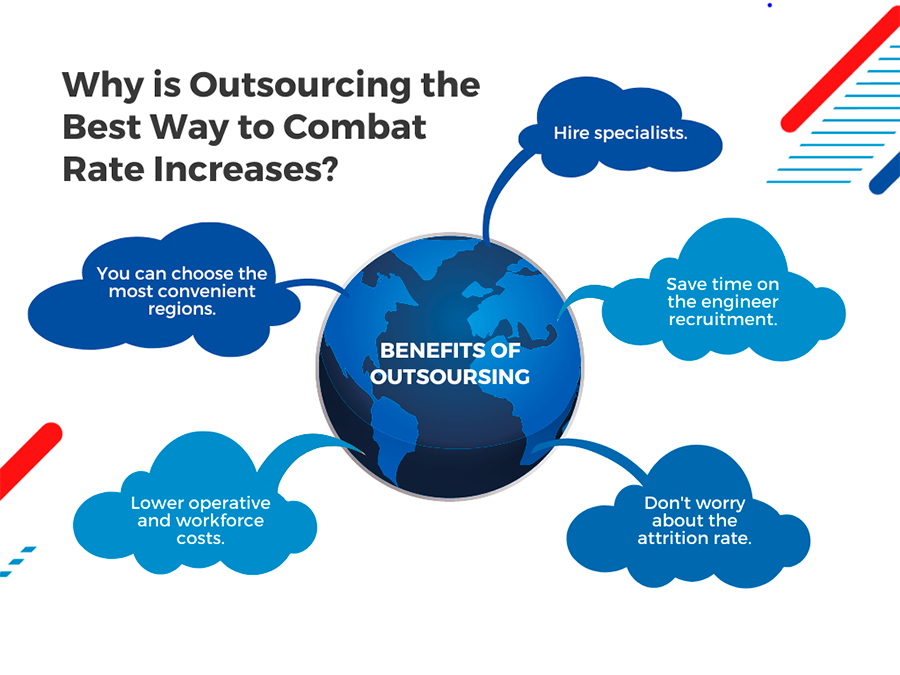 This is another of the reasons why outsourcing is growing (and will continue to do so) in recent years. There are outsourcing providers that are highly specialized in finding the best professionals, with a lot of experience, an excellent level of English, and with social skills to work with global teams.
That is why we will see below why outsourcing is the best alternative for companies that want to challenge the shortage of talent and also optimize the budget in technology.
Why is Outsourcing the Best Way to Combat Rate Increases?
Next, we will give the 5 reasons why outsourcing can be a key tool to combating the macro factors that are affecting rates around the world:

Tackling inflation rates:
Outsourcing is a great way to keep your company sustainable and reduce the effects of inflation. Companies can lower operative and workforce costs while increasing efficiencies.

In-house developers are much more expensive, and if, employees do not receive increases or even pay cuts, the motivation and productivity of the teams will likely decrease.
That is why outsourcing allows you to delegate administrative questions and spend less, without sacrificing productivity or efficiency.
You can choose the most convenient regions:
Choosing the right region to hire dedicated teams or staffing your tech team is crucial. When hiring a provider, you must take into account some aspects such as the time zone, cultural fit, and communication skills. Other circumstantial aspects that may influence the prices of the service must also be evaluated. Currently, many US companies are beginning to look towards Latin America, because one of the main talent poles (Ukraine) is going through a war. Also, another reason why the focus are on this region is because they have a high level of cultural affinity and a similar time zone.

If you are interested in knowing how to optimize the technology budget with confidence, we recommend you reading the article.
The skill gap will not be a problem:
Hiring a vendor with IT market experience and knowledge of different technological solutions allows you to save time on the engineer recruitment process and find the professionals that your company requires. Furthermore, they are organizations that are flexible and adaptable to new technology needs, allowing them to respond quickly to their clients.
Hire specialists:
Companies that provide outsourcing have recruitment platforms that allow them to reach the best talent for each technology, something very difficult to achieve for traditional HR areas. The recruiting teams, on the other hand, have advanced knowledge of technology, and vetted skills by technical leaders. This ensures that the chosen profile is compatible with the technological requirements of each client.
Don't worry about the attrition rate:
The attrition rate is a global problem that strongly affects the tech market. This occurs because it is very difficult to replace highly specialized talent in a short time, resulting in increased hiring costs.

By opting for an outsourcing model, the number of employee turnovers could be mitigated. These companies are in charge of talent retention, but also in case a developer voluntarily resigns, they have the responsibility of finding a quality replacement quickly.
Conclusion
As we mentioned in the trends for 2023, in a year in which a recession and record inflation rates are expected in the world, cost reduction will be essential for companies. And the software areas are, in particular, one of the most expensive sectors but also essential for the productivity of companies.

Therefore, if you are looking to hire an outsourcing provider with experience in the market, numerous success cases, and top 1% engineers in a wide range of technologies, contact us.