The Gartner Technology Growth & Innovation (TGI) Conference 2023 took place June 14 and 15 in San Diego, California. It focused on digital transformation topics, including the transformative changes in technology purchasing and adoption, business growth strategies, and decision-making in the era of data and generative AI.
Inclusion Cloud was in attendance and is thrilled to bring you some interesting discussion tracks from industry experts. This article provides an overview of the key topics and debates that are shaping the future of technology and business. We invite you to read the full article for valuable insights into the latest trends and strategies driving digital transformation.  
Day 1: 
Uncovering Game-Changing Strategies for Efficient Growth 
The opening keynote session started with an exceptional lineup of speakers, including Gartner's Managing VP, Eric Trenk, and VP Analyst, Maria Marino. Their expertise and in-depth knowledge set the stage for an insightful discussion on the six pillars driving growth through a deeper understanding of customers via digital channels. 
With a keen focus on customer-centric approaches, the six pillars were unveiled one by one: 
1. Customer intelligence:  
The power of data and analytics in gaining profound insights into customer behaviors and preferences. 
2. Connected portfolios:  
Leveraging a comprehensive portfolio of products and services to deliver seamless experiences across various touchpoints. 
3. Holistic customer marketing:  
Crafting personalized marketing strategies that resonate with customers on a deeper level. 
4. Augmented digital:  
Harnessing the potential of emerging technologies like augmented reality and virtual reality to enhance digital experiences. 
5. Product-led growth:  
Prioritizing product excellence and innovation to drive customer acquisition, retention, and revenue growth. 
6. Building new marketplaces:  
Exploring untapped market opportunities and creating ecosystems that foster collaboration and growth. 
Throughout the session, the speakers emphasized the pivotal role of technology in creating new market opportunities, especially in these challenging times. With businesses facing unprecedented disruptions and evolving customer expectations, the need to adapt and leverage powerful data analysis tools is now vital. 
Designing a Successful Product Strategy for the AI-Saturated Future 
Another session focused on the growing demand for technology solutions by organizations to optimize processes, reduce costs, and stay competitive in challenging times. This has led CIOs to implement technologies in their business models, such as AI. However, only 27% of workers are open to AI implementation, highlighting the disparity between demand and employee acceptance.  
The top four obstacles businesses face in implementing AI are: 
1. Resistance from workers:  
Many employees prefer human interactions and have concerns about security, privacy, and the tangible benefits of AI. 
2. Data accessibility and complexity:  
Managing large volumes of data and ensuring accessibility can be challenging for organizations. 
3. Difficulty measuring value:  
Quantifying the value of AI can be complicated, making it difficult to justify the investment. 
4. Lack of staff skills/technology knowledge:  
Implementing AI requires a specific skill set that many teams may not possess.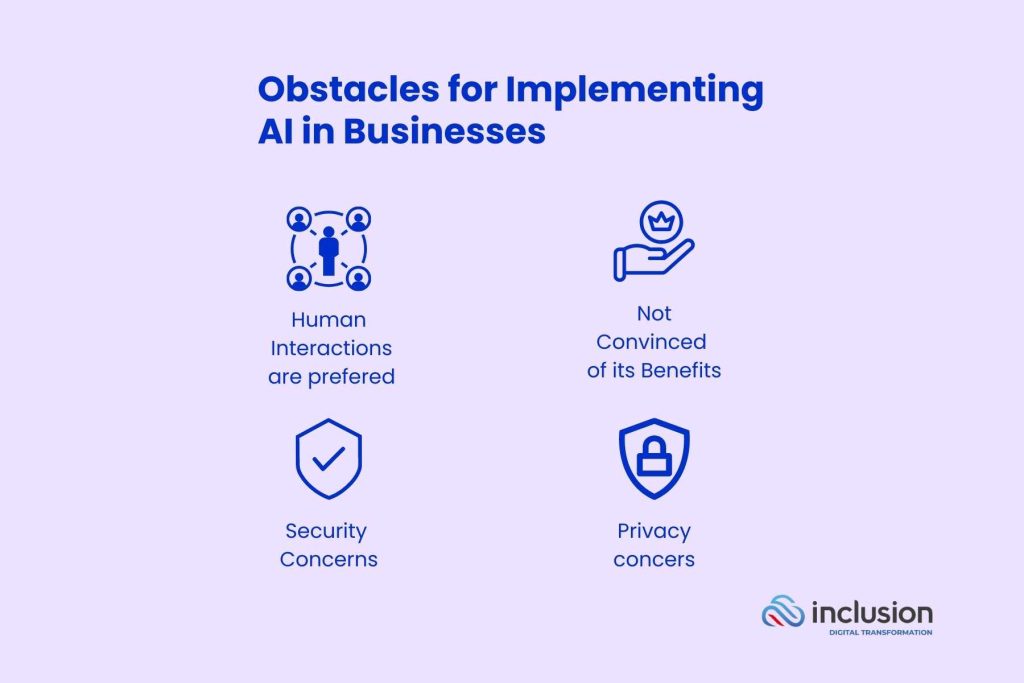 To Overcome These Hurdles, Businesses Can Take the Following Steps: 
1. Building trust and education:  
Educate workers about the benefits of AI, and how it can streamline operations and free them from tedious activities to focus efforts on more valuable tasks. 
2. Partner with experts:  
Consider partnering with reliable vendors specializing in complex databases or measuring AI's value to provide guidance and deliver measurable results. 
3. Hire or scale up teams: 
If internal teams lack the necessary skills, consider augmenting teams, hiring dedicated teams, or upskilling existing teams. 
Synthetic Data: Unlocking Endless Possibilities 
One of our favorite sessions of the day discussed how synthetic data, created with computer technology, allows organizations to improve AI models, safeguard sensitive information, and address biases. Different approaches to generating synthetic data include data augmentation techniques, generative adversarial networks (GANs), rule-based approaches, and simulation and modeling.
Synthetic data presents significant opportunities for companies, such as improving customer personalization, accelerating innovation through rapid prototyping, and reducing data bias. Leveraging synthetic data enables organizations to protect customer privacy, mitigate bias, and improve the training of AI models in an ethical and compliant manner.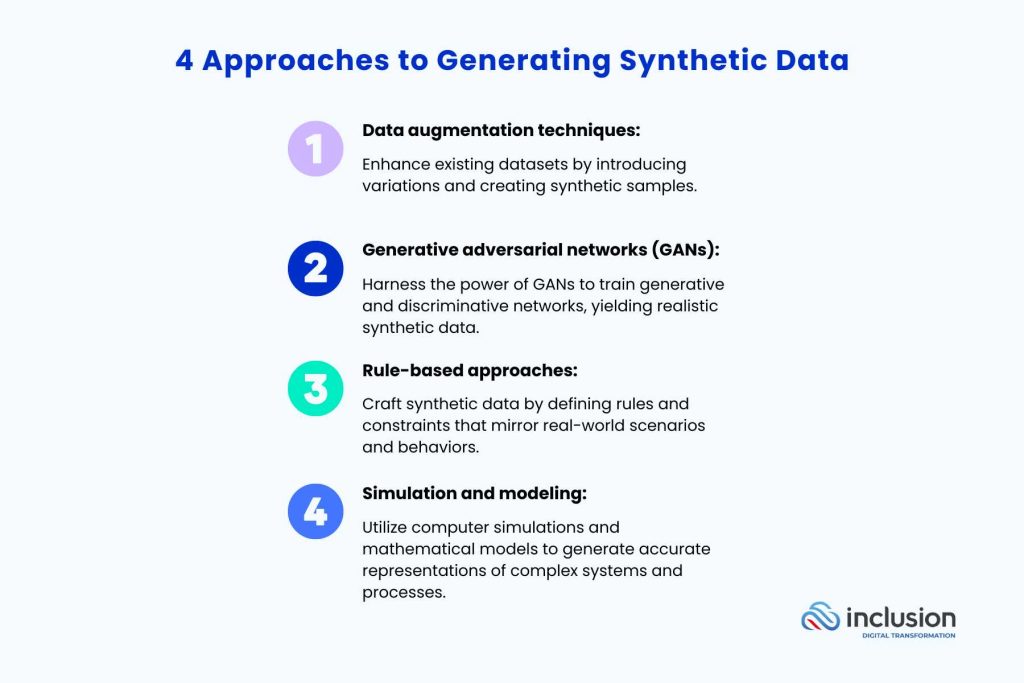 Boosting Growth in Today's Context: Key Considerations 
According to Gartner specialists, in today's context, organizations need to pay attention to three key aspects for sustainable revenue and growth: 
1. Democratization:  
With more people using work-related AI tools, there is a need for accessibility and digital literacy. 
2. Federated Decision-Making:  
Decisions now involve multiple organizations and leaders, requiring consensus-building with more variables. 
3. Inexperienced Customers:  
As technology becomes more prevalent in everyday work, sales processes must prioritize education to help users leverage their new digital tools. 
By addressing these aspects, businesses can adapt to the changing technology landscape and unlock new avenues to success. 
Day 2:  
Efficient Growth Through Focusing on Strengths and Ecosystems 
In the second day's keynote session, the speakers unveiled strategies for achieving efficient growth in an ever-evolving business landscape. The event began with an insightful presentation on the findings of the Gartner Board of Directors Survey on Business Strategy in an Uncertain World.
During the conference, the top external threats to organizations' growth were discussed, including long-term economic uncertainty, inflationary pressures, and recession, casting a shadow of uncertainty over the future. However, amidst these challenges, a prevailing sense of optimism emerged as companies exhibited a willingness to take calculated risks to propel their growth and profitability. 
As the conference progressed, the spotlight shifted to the dynamic interplay between strengths and ecosystems as catalysts for efficient growth. The transformative power of focusing on organizational strengths and capabilities came to the forefront, empowering businesses to navigate the turbulent landscape with confidence.
Equally pivotal was the recognition of ecosystems as fertile grounds for collaboration, innovation, and unprecedented growth opportunities. The paradigm shift from traditional market-centric approaches to ecosystem-driven strategies allows us to find untapped markets through a data-driven approach. The use of data analytics tools allows businesses to identify promising new opportunities to find customers with affinity to their products and services, which is essential to get through difficult times. 
Central to the discussions was the significance of modularity and composability in enabling organizations to swiftly deliver value in an ever-accelerating digital era. By harnessing these principles, businesses can adapt swiftly, leverage emerging technologies, and seize market opportunities with agility. The notion of aligning solutions and services with desired outcomes emerged as a guiding principle for achieving consensus among stakeholders, fostering a cohesive vision of growth and success. 
Tackling the Talent Shortage 
One of the most pressing challenges addressed during the event was the pervasive talent shortage impacting organizations across industries. The survey findings revealed that 78% of CEOs and senior executives considered the talent shortage as having reached critical levels. In response, experts in the field shared strategies to tackle this crisis, including the adoption of automation, embracing the collaborative economy, upskilling existing talent pools, and partnering with reliable outsourcing vendors. The outsourcing approach was particularly emphasized as a means to bridge the skills gap, reduce costs, and enable organizations to concentrate on their core competencies.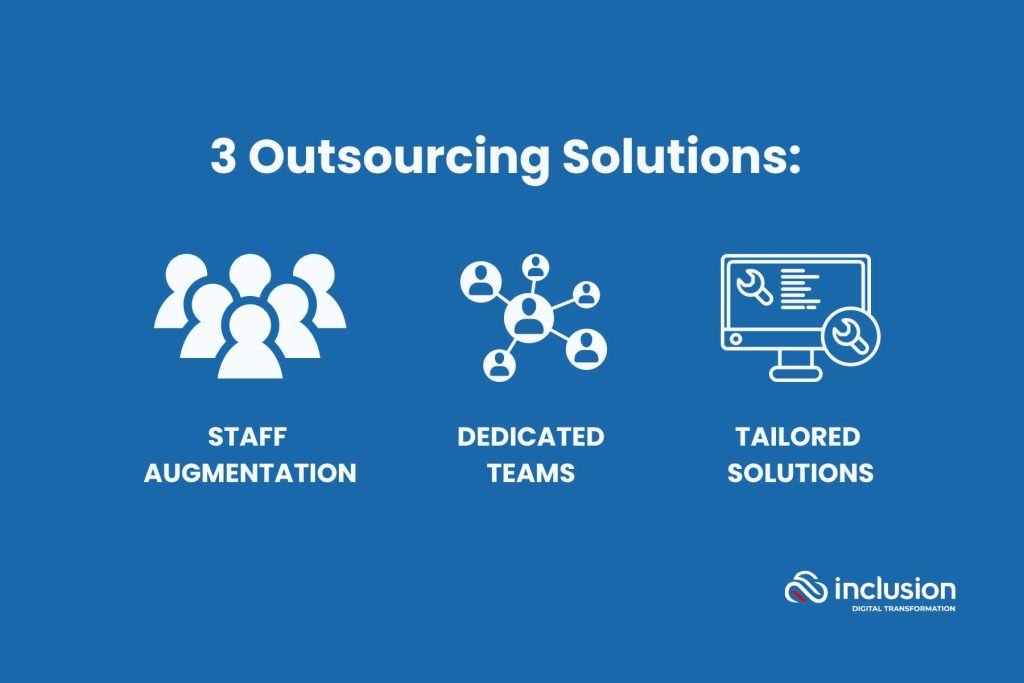 IT Services Trends and Technologies Radar: What You'll Need to Adopt, Provide, and Deliver Through 2028 
The second day of Gartner TGI continued to explore the dynamic landscape of dominant trends and technologies in IT services. The focus was on the elements that businesses must adopt, provide, and deliver in the coming years. 
In the near term, the focus of the discussions was the presentations of several key technologies and trends that demand immediate attention. These included: 
Sustainable enterprise 
Super apps 
Smart apps 
Total experience (TX) 
Composite AI 
XOps 
Connected governance 
Metaverse 
Adaptive AI 
Distributed cloud 
Generative AI 
Democratization of technology 
Industrial cloud platforms 
Each of these areas emphasized the importance of staying at the forefront of technological advances. 
In the medium term (the next one to three years), the need for partnerships to ensure resilience, effective governance of optimal technology stacks (OPT), and safe experimentation with generative AI was highlighted. In addition, the importance of democratizing technologies while managing order and making strategic investments in resilient solutions in times of economic turbulence was also emphasized.
Looking into the future (three to six years), some of the key technologies and trends were projected. Some of these were: 
Sustainable business 
Super apps 
Intelligent applications 
Total experience (TX) 
Foundational Models 
XOps 
Connected Governance 
Metaverse 
Adaptive AI 
Distributed Cloud 
These perspectives provided attendees with a view of the long-term outlook for IT services and technologies. 
How to pick the best technology provider 
The event's appendix shed light on critical considerations when selecting consulting or outsourcing service providers. This includes the effective use of prebuilt assets, tools, and platforms, alignment with corporate social responsibility (CSR) and diversity standards, proficiency in emerging technologies, and suitability for relevant departmental or functional areas.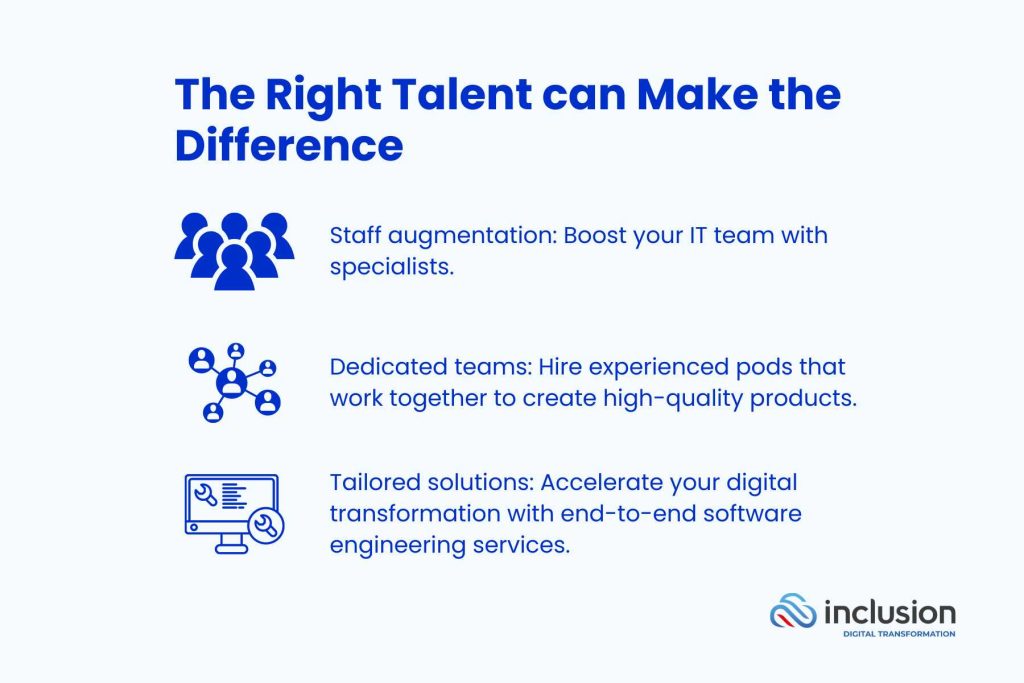 The growing impact of generative AI on business data 
An interesting statistic shared during the event was the projected increase in generative AI, which is expected to account for 10% of all data produced by 2025 – up from less than 1% currently. This statistic underscored the growing influence of AI in data generation and its implications for businesses across various industries. 
Driving a Culture of Growth by Diversifying the Leadership Bench 
The Gartner TGI Conference 2023 placed a spotlight on the critical role of diversity, equity, and inclusion (DE&I) in fostering a culture of growth within organizations. The event delved into the significance of measuring and enhancing DE&I metrics to drive progress and efficiency. 
Various metrics were identified as essential indicators of DE&I progress, including the diversity of the employee sentiment among diverse team members, acquisition and retention of diverse talent, promotion rates of diverse talent, visible sponsorship of employee resource group (ERG) initiatives, and DEI education. These metrics provided a comprehensive framework for assessing and improving DE&I initiatives. 
Leadership accountability emerged as a key theme during the conference, emphasizing the need for individual leaders to take ownership in driving collective DE&I results and fostering efficient growth. By championing diversity and inclusion, leaders play a pivotal role in shaping organizational culture and promoting positive outcomes. 
Top Predictions for the Cloud Market in 2023 and Beyond 
The Gartner TGI Conference 2023 also explored the transformative impact of cloud technologies on business disruption and innovation. With Gartner predicting that the cloud becomes a safe haven for customers during times of economic uncertainty, its role as a capability enabler, innovation facilitator, and business disruptor has become increasingly evident. 
One intriguing insight from the conference is Gartner's recommendation for businesses to assist customers in transitioning from using the cloud as a technology disruptor to a business disruptor. This shift calls for a focus on leveraging the cloud to drive new business models and disrupt traditional industries. By embracing this approach, organizations can harness the full potential of cloud technologies to reshape their markets and create competitive advantages. 
Moreover, Gartner emphasized the importance of engaging both technology buyers and business buyers in the adoption of cloud technologies. Understanding the unique needs and goals of both groups is crucial for successful implementation and maximizing the value derived from cloud solutions. 
Gartner's predictions and expertise in the field hold significant weight. Notably, Gartner foresees industry cloud platforms emerging as one of the top strategic technology trends for 2023. Furthermore, enterprises are projected to allocate a significant portion of new or additional funding toward cloud platforms, highlighting their prominence in investment priorities. 
The convergence of digital transformation and cloud emerged as key initiatives for cost optimization, according to the 2022 Gartner IT Services Buyers Survey. This further underscores the critical role of cloud technologies in driving efficiency and operational excellence. 
Gartner's inquiry statistics also shed light on the influence of AI and generative AI on driving business growth priorities and competitive differentiation. These trends indicate the increasing significance of AI-powered solutions in shaping future business landscapes. 
Moreover, Gartner's CEO and Senior Business Executive Surveys reveal that digital transformation and sustainability consistently rank among the top strategic business priorities for the coming years. This highlights the need for organizations to align their cloud strategies with broader business imperatives. 
Lastly, Gartner's inquiry trends indicate the maturity and growing adoption of various cloud-related domains, including cloud computing, data and analytics, IoT, edge computing, distributed cloud, artificial intelligence, the industry cloud, and sustainability. These trends reflect the evolving landscape of technology adoption and showcase the transformative potential of cloud technologies in multiple sectors. 
As the cloud market continues to evolve, organizations must stay informed about these predictions and trends to remain competitive and drive future growth. The Gartner Tech Growth & Innovation Conference 2023 provided valuable insights into the power of cloud technologies and their potential to reshape industries, enabling organizations to navigate the ever-changing business landscape with confidence. 
Conclusion 
In conclusion, the Gartner TGI 2023 Conference held in San Diego, was a remarkable event that delved into the transformative impact of technology and its influence on business growth and innovation. Throughout the conference, industry experts and thought leaders shared valuable insights and engaged in meaningful discussions on a wide range of topics, from digital transformation strategies to the role of generative AI in the future of businesses. 
In a rapidly evolving world, where uncertainty looms large and businesses face unprecedented challenges, the role of technology has become more vital than ever. From leveraging data analytics for customer intelligence to harnessing emerging technologies like augmented reality and virtual reality, the conference highlighted the myriad ways in which technology empowers organizations to adapt, grow, and excel. 
In times when many companies are struggling to implement emerging technologies into their business processes and drive growth and innovation, the importance of the right technology partner cannot be overstated. At Inclusion Cloud, we specialize in assisting companies from diverse industries to succeed in the digital era, providing cutting-edge technology solutions, but also offering our vast experience in strategy and successful implementation of technology to optimize costs, improve processes and deliver better customer experiences. 
To get the latest news and details from the event, make sure to follow Inclusion Cloud on LinkedIn. By doing so, you'll continuously gain valuable insights into the ever-changing world of technology and digital transformation.
Contact Inclusion Cloud today to learn how we can help your organization navigate uncertain times.