Among the different ways of organizing work, there are some methodologies that are favorites for their proposal, dynamism, and results. Surely you have ever heard of or applied the SCRUM work methodology, but perhaps POD teams are not so familiar to you. Agile POD is a work methodology that is derived from SCRUM, but it has aspects that distinguish it. 
In the following article, we will give some tips to build teams that work with Agile POD. Also, how to plan a POD, execute a POD, and how you can sustain one throughout time. 
What is a POD?
First, we need to define what POD means. POD is an abbreviation for "Product Oriented Delivery" which refers to a cross-functional team of business and technology professionals that works together as a single unit to handle all aspects of development and maintenance.
In a POD team, isolation between group members is broken down, and the team works in a "we build it, we own it" mindset. No longer is there a time-consuming handoff between individual teams, and organizations can be more agile than ever. To put it short, an agile POD is a group of people with diverse skills who complement one another.
As we said before, POD follows the bases of the SCRUM methodology, but it runs multiple sprints simultaneously, unlike SCRUM which has four consecutive sprints. Therefore, Agile POD refers to a set of guiding principles for project or software development that employs an iterative approach. Scrum, on the other hand, is a set of rules that must be followed when developing software.
The agile POD team is self-sufficient and cross-functional, working collaboratively to meet product requirements. An Agile POD team can have four to ten members with a variety of skills such as UI/UX designer, QA engineer, Full Stack developer, business analyst, etc.
Having such diverse skills, Agile POD teams build diverse solutions that seek the best possible innovation. The focus is always on autonomy, adaptability, and flexibility to solve problems.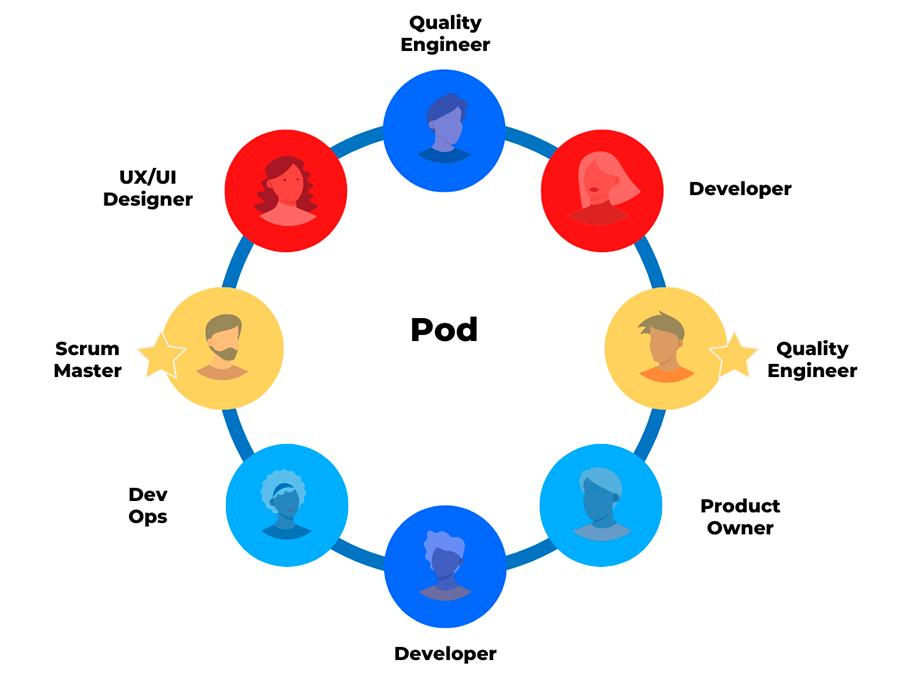 Planning a POD
As you may know, an Agile POD Team requires people who manage diverse professions. A POD it is conformed of SCRUM Masters, Product Leads, Technical/Business Analysts, UX Designer, UI developers, Full-stack Developers, DevOps Engineers, Test Engineers, QA Engineers, Cloud Engineers, and so on.
Although specialists with different skills coexist in a POD team, it does not mean that they all have the same hierarchy. Members are grouped by their functionality in team members, which consists in:
Core team: These team members are fully committed to working for their pod. They are present at all meetings, discussions, and decisions.
Part-time specialists: These team members are available as part-time resources to help different pods with their specialized project needs. They could be working for several pods at the same time. A UI designer, a white box tester, or an automation engineer are some examples.
POD leader: A pod leader prioritizes work with the business management team, clarifies requirements, and periodically replenishes the backlog for upcoming projects.
To capitalize on an Agile POD team, it is important to define clear requirements and then have an onboarding time for the agile team members. When putting team members together in a POD, keep their skills and specialization in mind. And onboarding time should be spent helping them understand the process and developing a level of understanding among themselves. 
Implementing a POD
Once the roles of the team members are defined, it remains to start working with the agile methodology. Remember to define well the responsibilities of each part of the team. That said, flexibility must be prioritized. In fact, this phase is all about flexibility.
As your teams form and begin to work, actively collect feedback so that you can identify pain points and work with internal leaders to resolve them. There should be no overlap in the agile PODs.
The execution model for a POD focuses on:
Features: Implementation features are organized in the form of autonomous and self-sustaining PODs. 
Team capabilities: POD team composition and size based on the Product, application, and technology complexities, and future product backlog and roadmaps.
Team distribution: Geographical distribution (Onsite-Offshore-Nearshore) based on the high-touch customer experience requirements, integration with business teams, time-to-market, and people capabilities. 
Sustaining a POD 
Multiple PODs are created as the product evolves. It is critical to define specific metrics in order to sustain these PODs. We will enumerate some of them that you should consider. 
KPIs
You can check the impact of your POD implementation by tracking team activity and results across several Key Performance Indicators (KPIs), such as
POD velocity: Measure POD against a number of story points delivered sprint by sprint.
Sprint completion rate: Measure PODs committed vs. completed work.
Sprint burndown: Measure how smooth the sprint was. 
Retrospectives
Each POD should consider what went well and what could be improved. The PODs conduct their retrospective analyses independently and share their findings with other PODs. 
Share the lessons
Once a POD identifies areas for improvement, it should share its findings with other PODs to enable scalable continuous improvement.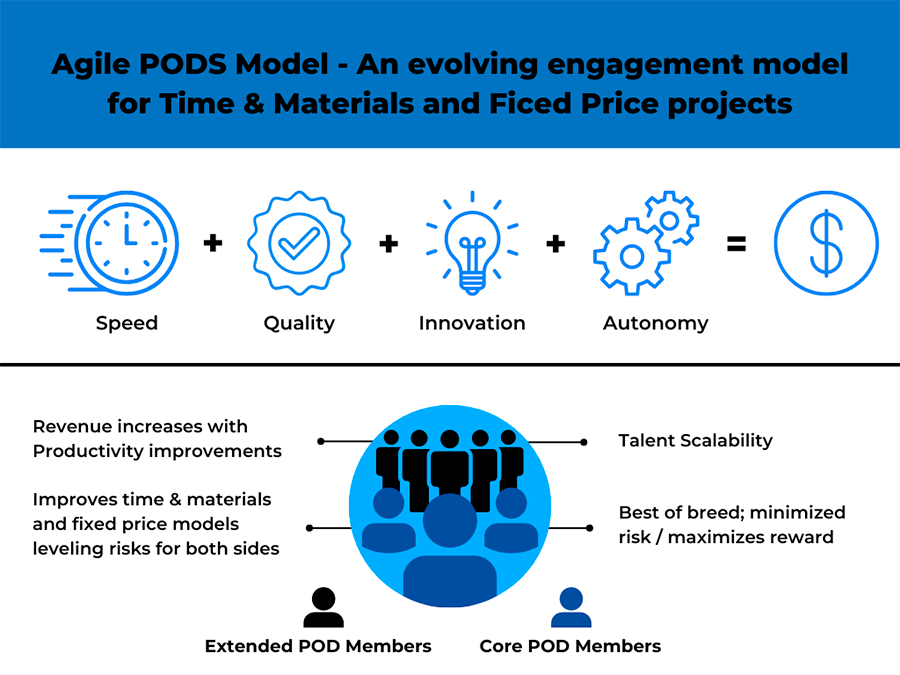 Benefits of the POD Model
The following are the primary benefits of POD-based delivery: scalability, collaboration, and efficiency. 
1. Scalability
The POD model eliminates traditional roadblocks in the software development process associated with handoffs and lag time between phases that occur when the team is segmented by skills by combining all required disciplines into one integrated unit. POD teams can be added and removed from projects as needed to ensure that the right amount of resources is available for each sprint. Members from different PODs can also collaborate on different projects without disrupting the overall structure. 
2. Collaboration 
Because POD teams are small, it is easier to foster productive relationships among team members due to simplified communication. Furthermore, by collaborating closely with others in related disciplines, employees gain an understanding of the larger process for producing the deliverable as well as the unique needs of each discipline to achieve the goal. This improves collaboration with other team members, while also allowing the employee to think about how they can support these requirements in their work. POD teams work delivers quality and value to the customer by continuously adapting to meet business objectives. 
3. Efficiency  
POD teams are highly productive because the process for reviewing and testing deliverables is streamlined when all necessary skill sets are housed under one roof. Team members have easy access to feedback on their contributions because they collaborate closely with all stakeholders. This reduces the chances of bugs making it into production and allows team members to correct course earlier in the process.
This work methodology has been increasingly adopted by more companies due to its dynamic logic of combining Business teams with IT. The achievements are visualized quickly, and it becomes more agile than the implementation of a SCRUM work scheme.
If you have questions about how to form an Agile POD Team or are looking for developers to form one, contact us.