Following the pandemic, ecommerce grew at an exponential rate, resulting in a large number of companies from various industries offering their products and services on the Internet. It is natural for some business owners to wonder how to succeed and differentiate themselves in this highly competitive environment.
According to statistics, more than 265 million Americans will be shopping online by 2023. Companies must adapt to this new reality to increase sales and retain clients as customer consumption habits shift to digital.
In this article, we will look at some technological solutions that will help your company in creating excellent customer-centric e-commerce stores, allowing your company to stay ahead of the competition.
Why will Innovators take the Lead?
One of the challenges facing e-commerce in the coming months is finding a more ethical and creative way to collect consumer data. Safari and Firefox have already blocked the use of third-party cookies and Google plans to stop using them by 2024.
Third-party cookies are intended to track the habits of internet users to offer them personalized advertising tailored to their browsing patterns.
At the same time, governments are taking measures to guarantee data privacy. Considering the amount of data that is generated every day by millions of users and the sensitivity of personal data and information, it is understandable that governments are looking for alternatives that ensure the privacy of users.
To reduce the impact of these measures, retailers should use less data provided by third parties to look for innovative ways to obtain zero-party and first-party data. And to achieve innovation, choosing the right technology stack can be a plus because it reduces the time spent on repetitive tasks to think of creative solutions.
What is an E-commerce Tech Stack?
A technology stack for an e-commerce store is a set of digital tools, software, applications, and platforms that allow the business to operate. The choice of the technology stack will depend on the needs of each business, but in general, allows optimizing tasks such as customer service, payment processing, sales, quotes, and returns, among other aspects.
How to Choose the Right Technology Stack?
Choosing the right technology stack requires considering some factors such as the size of the organization, type of industry, traffic and expected sales volume. Below, we will discuss some points that companies should pay attention to before choosing technology tools for their online store:
Type of business
When choosing the technology stack, consider the number of sales and your company's goals. Before closing the deal, think about the characteristics of your customers and your product, the possibilities to scale, and the in-house talent available.
Costs
The number of technological tools, and therefore the cost, will depend on the size of the organization and whether a customized or off-the-shelf store is needed. Also, it is important to set up a budget, without losing sight of the return on investment (ROI).
Consider the tools you have
To optimize costs, it is a good practice to consider the digital tools your organization has. So that the integration with the existing ecosystem is seamless and allows the transfer of data securely and quickly.
Scalability
The scalability of a platform is a crucial element for a company to expand its operations. The ability to scale up or down according to market needs is a key tool for your organization to optimize costs and adapt to the changing dynamics of each industry.
Time-to-market
Another issue to consider is the project deadline. Understand whether to expect a more sophisticated or customized product or on the contrary, to create a website that is quickly available to consumers. The choice of the technology stack will also depend on these needs.
What Should Businesses Consider When Choosing an Ecommerce Platform?
The first decision is whether to go for an open-source model or a subscription model such as SaaS (Software as a Service). Next, we will see what the characteristics of each model are and then understand what questions you should ask yourself to choose the platform model that suits you best:
Saas e-commerce
It is a type of e-commerce platform that uses cloud-based software for its operations. This type of software is subscription-based, and businesses must pay a monthly or annual fee to maintain the service. Here are some of its key features:
Flexibility: It benefits businesses that are growing or going through a fluctuating stage as it provides great flexibility. Allows for scaling up or down quickly without having to make infrastructure changes.
Great functionalities: It offers many options to customize the store design and its functionalities without the need for high specialization for its configuration.
Lower upfront investment: The money needed to get the platform up and running is much lower than in those where the software is customized.
You do not need a highly specialized team: If you do not have many in-house resources, this type of platform is an excellent choice. In addition, it does not require dedicating a great deal of time to maintenance because the platform is hosted in the cloud.
Open-source e-commerce
The open-source model is a type of platform that uses open-source software in its operations. It allows a great capacity for customization since it has free code, and it is possible for anyone to make modifications to adjust the software to their needs.
The main characteristics of this type of e-commerce platform are:
Savings in the long term: Perhaps at the beginning, to make the platform functional, a large investment in terms of development is necessary. But overall, avoiding the payment of licenses can be a very economical solution.
Customization: The platform can be changed according to the needs of the organization, and you can add extremely specific functionalities.
More control: Allows greater control over the platform, so changes and adjustments can be made to the infrastructure and functionality based on user´s feedback.
Requires talents: For the maintenance and proper functioning of the platform you will need the right talents as the hosting is in-house.
Each of the models has its pros and cons, as they can provide different capabilities to organizations. Therefore, we recommend considering these aspects before starting your e-commerce store with any of the models.
How to Optimize your E-commerce Platform in 2023
The e-commerce industry, like consumer preferences, is constantly evolving. To stay competitive, it is important to be aware of market trends and deliver great experiences to your customers so that they will want to return to your store.
To do this, it is essential to have an e-commerce site that meets the expectations of your customers (or potential customers) so that most visits are converted into sales. One of the main trends in recent years is related to delivering a frictionless experience for users that avoids frustration and is a satisfying shopping experience.
These are some of the trends to keep in mind to optimize your e-commerce platform so that you don't lose customers by making mistakes that scare consumers away: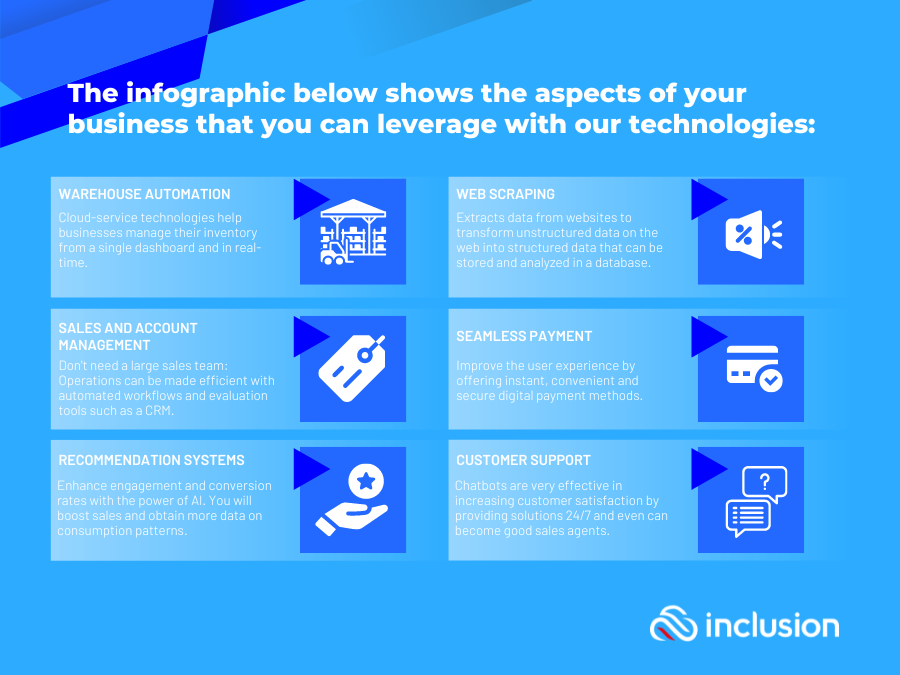 Automate customer service
Automation of customer service through chatbots is amazingly effective in increasing customer satisfaction by providing solutions 24/7 and can even become a good sales agent.
Warehouse automation technologies
Cloud-service technologies help businesses manage their inventory from a single dashboard and in real-time.
Sales and Account Management
Don't need a large sales team: Operations can be made efficient with automated workflows and evaluation tools such as a CRM.
Streamline navigation and checkout process
To increase conversions, the entire navigation process must be simple and well-organized, following accessibility guidelines. In this way, users will be able to find what they are looking for more quickly and increase conversion opportunities.
It is also important to optimize the checkout process, to make it a frictionless process and thus avoid increasing the cart abandonment rate. These are some of the points that can help increase sales in your online store:
Easily visible purchase buttons
Numerous payment methods
A clear step-by-step checkout process
Guest checkout option
Pop up to show that there are items left in the cart
Send Abandonment Emails
Increases website loading speed
Speed is an element that can make the difference between a customer making a purchase or abandoning the site. The entire checkout process must be fast and enjoyable for the customer.
However, this is not the only reason to be concerned about the speed of the site. Also, the speed of the online store will influence SEO positioning, since Google rewards those pages that are fast and penalizes the slow ones.
In an e-commerce store, you must be careful with the images, because if they are not optimized, they can significantly increase the loading times.
Use analytics tools
Considering the changes in third-party cookie policies, the focus in the coming years will be on first-party cookies.
Analytics tools will allow for generating useful KPIs to better understand which parts of the e-commerce site work and which parts need to be improved.
It also allows you to obtain valuable data about consumers, their browsing patterns, and consumption habits to strengthen your business decision-making.
Run tests
Tests are used to detect common errors that users may experience during navigation and that may make them abandon a purchase due to a feeling of frustration and even distrust.
In this way, you will be able to reduce the bounce rate and make visitors spend more time on the site due to the quality of navigation.
Think about the mobile experience
Mobile commerce is growing every year and is expected to reach a total of $728 billion by 2025, representing 44% of total e-commerce sales in the US.
Hence the importance of improving the e-commerce store in the mobile version to offer an excellent experience and avoid losing customers as it is a trend that will continue to grow in the coming years.
Offer a personalized experience
According to statistics, 34% of consumers are more likely to make an unplanned purchase if the brand personalizes the content. Undoubtedly, content personalization is necessary for companies as customers expect to receive recommendations related to their browsing history.
Another aspect that can help potential sales is product recommendation algorithms. Some of the categories that are commonly used in e-commerce stores are:
People also viewed.
Customers also bought.
You may also like.
Related items.
Items related.
Recommended for you.
Gain customer trust
Consumers value security highly, as they enter sensitive personal data, as well as data related to payment methods. Pages with SSL certification will be highly valued by search engines, and it is also a good practice to use trust seals and badges on your homepage to reassure potential customers.
On the other hand, it is also a good thing to add reviews from users who bought the products before because in this way they supply useful information to other buyers about the characteristics of the products and about the shipments of the same.
As a bonus, make sure that the store has good pictures, or videos, of the products so that interested parties can see the product in detail.
Why Outsource?
Running an e-commerce business is not a simple job. Getting a product from your warehouses to the consumer's home is a complex process where technology plays a decisive role.
Many times, businesses do not have the in-house tech talents they need to improve online transactions, automate services, manage CRM, optimize the website, develop recommendation algorithms, and test implementations. That's why outsourcing is a suitable alternative for businesses, as it allows them to improve their operations quickly to increase sales and improve user experience.
These are some of the reasons why online retailers should consider outsourcing in the technology area:
Focus on core business:
The focus of a successful e-commerce store should be on improving products and working on branding strategies or marketing. Outsourcing allows you to ease the workload of your team and allows them to concentrate on what really matters.
For example, developing applications and websites or managing inventory are complex, time-consuming, and knowledge-intensive processes. That's why an outsourcing provider that specializes in sourcing the best technology talent can help you get the entire process up and running and reduce turnaround times.
Scale up and down:
Outsourcing allows great flexibility so, you can scale up or down your team, reducing time and avoiding the bureaucratic problems that can hinder this process.
Some e-commerce stores sell seasonal products, so at some times of the year they will need to increase the number of people working on the maintenance of a website, and maybe at other times the activity will be reduced, and part of the team will need to be relocated.
Therefore, outsourcing is a great tool to make more efficient use of resources.
Best talents in the market:
Getting skilled tech talent is not an easy job. That's why outsourcing offers the possibility of expanding the talent pool to other regions. This not only helps the recruiting of top technology professionals but also makes it easier to optimize costs by hiring developers from regions with less expensive salaries, such as Latin America.
Faster time-to-market:
The applications and features you need for your e-commerce store will be available in less time by having experienced teams as well as project managers who through the application of agile methodologies can ensure that projects move forward with the desired quality and are delivered on time.
Increase efficiency:
E-commerce businesses can increase the speed and efficiency of their processes by outsourcing repetitive processes with the equipment and expertise of the outsourced vendor.
Build customer loyalty:
With the help of experts, you will be able to develop applications and websites that will greatly improve the user experience to offer seamless navigation that will transform visits into sales. If shoppers have a satisfying shopping experience, the chances of that customer becoming a huge fan of your brand will increase.
When to Outsource?
Finally, you are probably wondering: When is a good time to start outsourcing? These are some of the contexts in which your e-commerce business will benefit from receiving the help of an outsourcing vendor:
You are in a period of rapid growth or changes
Need more time to spend on planning
Need to optimize your budget
Competition is overtaking you
You don't have the talent
If the in-house team is falling behind a deadline
Conclusion
E-commerce is expanding at a frenetic pace, and competition is fiercer than ever. And technology is a factor that can help your company succeed. Following the pandemic, there have been significant changes in consumer habits, and the digitization of many previously face-to-face activities, including the way people shop. Technology enables online stores to be optimized and adapted to be secure and interactive, providing users with a seamless shopping experience.
If you want to increase your company's sales, the first thing you should do is find the talent you need to transform your store. We want to help you beat the competition by bringing in top professionals who will ease you ramp up your store into a fantastic experience for your customers. Contact us!