Customers hate waiting, so don't make them. Make them feel valued and heard. And last but not least, give agents the tools they need to resolve issues quickly.
In this article, we will discuss the benefits of Service Cloud by Salesforce, including reducing customer wait times, improving customer satisfaction, increasing efficiency, and increasing visibility into customer interactions.
Cloud-Based Customer Service
This cloud-based customer service platform can help businesses improve their support for clients in several ways. It provides a unified view of customer data so that agents can quickly and easily find the information they need to resolve customer issues.
It also offers a variety of tools for automating customer service tasks, such as routing tickets to the right agents, providing self-service options, and tracking customer satisfaction.
The Importance of a Good Customer Service
50% of customers would switch to another brand if they had to wait on hold for more than 5 minutes.
This shows that long wait times are one of the major customer service pain points. Having all pain points covered is paramount these days, especially considering that:
76% of customers will stop doing business with a company after just one negative experience.
60% of customers say that they would be more likely to do business with a company that offers 24/7 customer support.
92% of customers who have positive customer service experience will recommend that company to others.
The average customer spends 15 minutes resolving a customer service issue.
Key Features of Salesforce Service Cloud
Salesforce Service Cloud has the following important features:
Unified view of customer data
Within the dynamic landscape of Salesforce Service Cloud, seamless integration of customer data offers agents a unified and comprehensive view. Armed with this robust information repository, agents can swiftly access the precise details required to tackle customer concerns with remarkable efficiency.
Automated customer service tasks
It offers a range of tools to automate customer service tasks, including ticket routing, self-service options, and customer satisfaction tracking. Empowering agents to focus on complex issues, it drives enhanced operational efficiency.
Self-service options
Encompassing an array of intuitive self-service features, Salesforce empowers customers with diverse options, including knowledge bases, FAQs, and chatbots.
These invaluable tools grant customers the autonomy to access the information they require, eradicating the need for direct customer support engagement. As a result, waiting times are significantly reduced, culminating in an enhanced and gratifying customer experience.
Analytics and reporting
Imbued with a diverse range of analytics and reporting tools, Salesforce Service Cloud allows businesses to monitor customer satisfaction meticulously, pinpoint opportunities for enhancing customer service, and gauge the ROI derived from the utilization of its capabilities.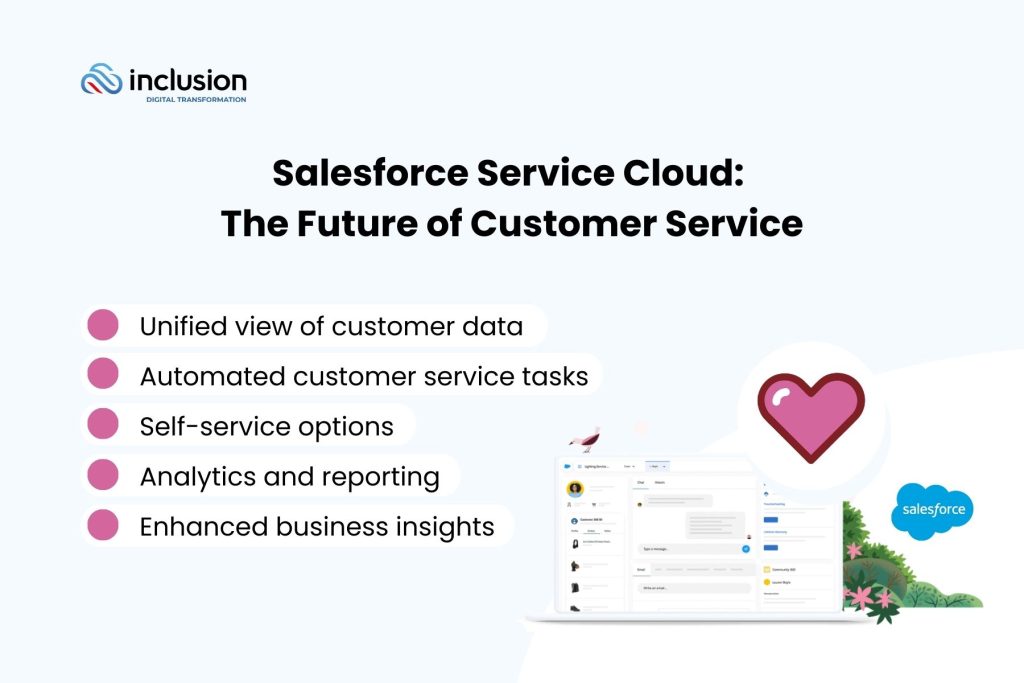 The Role of AI
Customer service must be exceptional and of high quality to not only please but also maintain customers. Companies are utilizing chatbots and automatic responses thanks to the use of artificial intelligence, allowing customers to be served 24 hours a day, seven days a week.
These features can assist enterprises in the following ways:
Reduce customer wait times
Improve customer satisfaction
Increase efficiency
Reduce costs
Combined with Other Salesforce Tools
Service Cloud and Marketing Cloud
Salesforce Service Cloud and Salesforce Marketing Cloud are two of the most powerful tools in the Salesforce ecosystem. When used together, they can create a truly unified customer experience.
Here are some of the ways that can be combined:
Personalized marketing messages: Salesforce Marketing Cloud leverages Service Cloud data to craft personalized marketing messages. For instance, after a customer contacts Service Cloud with an issue, Marketing Cloud can send a follow-up email offering solutions.
Automated customer journeys: Utilizing Service Cloud data, Salesforce Marketing Cloud designs automated customer journeys, triggering tailored marketing messages based on interactions. For example, if a customer opens a support ticket, Marketing Cloud can automatically send a relevant knowledge base article link to address their concern.
AI-powered chatbots: Enables AI-powered chatbots creation. These chatbots proficiently address customer queries, resolve issues, and can even upsell products and services.
Service Cloud Voice
Service Cloud Voice can be used with AI to provide a more personalized and efficient customer service experience. For example, AI can be used to:
Route calls to the right agents: AI could be used to evaluate consumer data and direct calls to the agents best suited to address the problem. This can aid in reducing client wait times and increasing customer satisfaction.
Answer customer questions: AI-powered chatbots can answer customer questions 24/7, which can help to reduce customer wait times.
Identify potential concerns: By harnessing AI, businesses are able to analyze customer data, proactively detect issues, and enhance customer satisfaction by preemptively preventing issues.
Service Cloud and CPQ
Salesforce Service Cloud and Salesforce CPQ can be used together to close more deals and improve the customer experience. For instance, Service Cloud can be used to track customer interactions and identify potential opportunities. CPQ can then be used to create and manage quotes and proposals.
The benefits of using Service Cloud and CPQ together include:
Increased sales: Through the effective utilization of Service Cloud to monitor customer interactions and spot potential opportunities, businesses can boost deal closures.
Improved customer experience: By using CPQ to create and manage quotes and proposals, businesses can provide a more personalized and efficient customer experience.
Reduced costs: Integrating Service Cloud and CPQ streamlines deal closures, saving valuable time and resources for businesses.
What's Next for Salesforce Service Cloud
Service Cloud is constantly evolving to meet the needs of the modern customer.
In 2023, Salesforce Service Cloud integrated Salesforce Einstein, Salesforce's AI-powered platform. This integration allows Salesforce Service Cloud to provide even more personalized and predictive customer service.
The following are some advantages of connecting Service Cloud and Einstein:
Predictive customer service: Empowers businesses to predict customer churn risks, preempt potential issues, and personalize service interactions. By doing so, they can enhance customer satisfaction, cut costs, and attain their business objectives.
Automated customer service tasks: Einstein can be used to automate customer service tasks, such as routing tickets to the right agents and providing self-service options. This will free up agents to focus on more complex customer issues.
Unified view of customer data: It facilitates seamless unification of customer data from all channels, streamlining issue resolution for agents and delivering a personalized customer experience.
Conclusion
In summary, Salesforce Service Cloud is a multitask customer service platform that is constantly evolving to meet the needs of the modern customer. The integration of Salesforce Service Cloud with Salesforce Einstein is a major step forward for customer service, and it will allow businesses to provide more personalized and predictive customer service.
We at Inclusion Cloud are Salesforce partners, and we have the best experts on the matter. If you want to know how it can help you leverage Salesforce Service Cloud, get the most out of this tool, and enhance your business, make sure to contact us!