Recent research reveals that many sales professionals struggle to keep pace with rapid technological changes.
This can lead to missed opportunities, less motivation, and even burnout.
If you're one of these professionals, you need to check out Microsoft Sales Copilot, the AI-powered sales assistant can help you close more deals and free up your time.
In this article, we will take a closer look at this intelligent assistant: we will discuss what it is, how it works, and what benefits it can offer sales professionals.
Microsoft AI-powered Sales Assistant
Microsoft Sales Copilot is an AI-powered sales assistant that can help you with everything from finding the right leads to writing personalized proposals.
Integrated with Dynamics 365 CRM system, it gains access to customer records, sales opportunities, and marketing campaigns. Using AI, Sales Copilot automates tasks, offers personalized recommendations, and generates valuable customer behavior insights.
Salespeople are facing more competition than ever before, and they need all the help they can get to close more deals. Microsoft Sales Copilot is designed to give salespeople a competitive edge by providing them with the information and guidance they require.
Microsoft Sales Copilot is competing with other AI-powered sales assistants, such as Salesforce Einstein and HubSpot Sales Hub. These tools offer similar features, but Microsoft Sales Copilot is differentiated by its integration with Microsoft 365.
This integration allows Microsoft Sales Copilot to access data from Outlook, Teams, and other Microsoft 365 apps. This gives Microsoft Sales Copilot a unique advantage, as it can provide salespeople with a more holistic view of their customers and their sales process.
Discover Leads, Customize Proposals, and Track Progress
In the dynamic world of sales, the ability to discover leads, customize proposals, and track progress is paramount. This trifecta forms the backbone of successful sales strategies and serves as a roadmap for sales professionals navigating the complex landscape of customer acquisition and retention.
With Microsoft Sales Copilot, you're not just getting a tool—you're getting a partner in your sales journey. Built on the principles of discovering leads, customizing proposals, and tracking progress, this tool is designed to boost your sales process.
Discovering leads with precision
Microsoft Sales Copilot uses advanced AI and data analysis to identify promising leads. It sifts through vast volumes of data, pinpointing potential customers based on their behavior, preferences, and interaction with your brand. This ensures that every lead you pursue is a qualified prospect, saving you time and increasing your conversion rate.
Customizing proposals for maximum impact
In today's competitive marketplace, personalization is key.
This tool offers a robust customization option for your sales proposals. With its intelligent features, you can customize your proposals to match the unique requirements and interests of each lead.
This personalized approach not only enhances the appeal of your proposals but also fosters stronger relationships with your prospects.
Tracking progress for continuous improvement
With this cloud-based tool, you can easily monitor the status of your proposals in real time. This allows you to track your progress, assess the effectiveness of your strategies, and make necessary adjustments. The insights provided by Microsoft Sales Copilot can reveal valuable patterns and trends, guiding your future efforts and driving continuous improvement.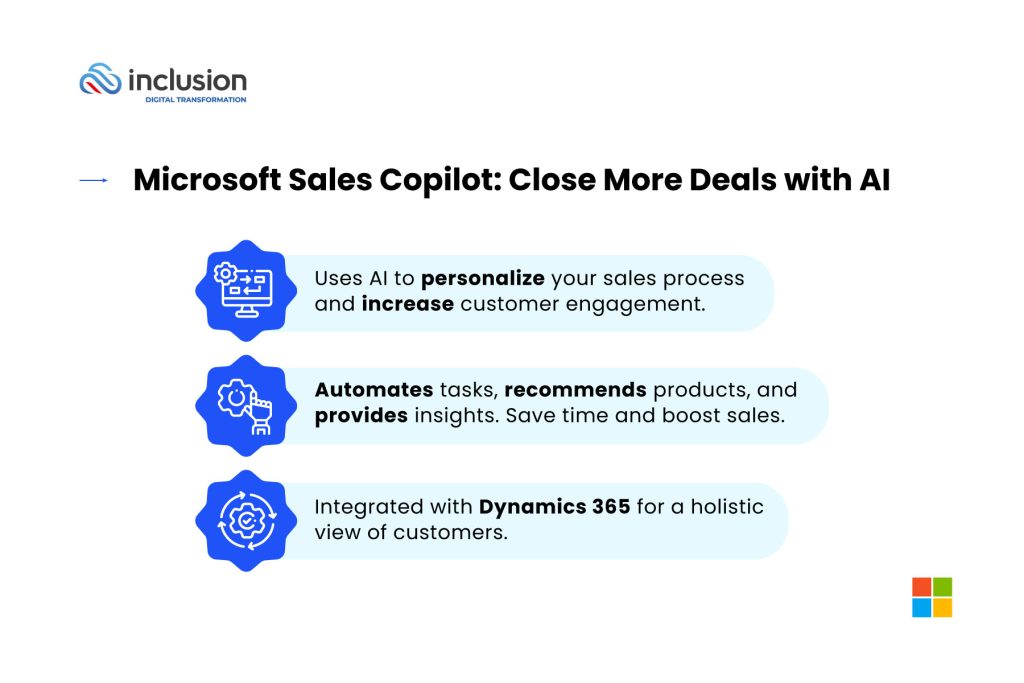 Microsoft Sales Copilot Works with Dynamics 365
Integrated with Dynamics 365, Microsoft Sales Copilot seamlessly collaborates with the CRM system, granting access to a wide range of data, including customer records, sales opportunities, and marketing campaigns.
Once Sales Copilot is integrated with Dynamics 365, it can be used to:
Automate tasks
By automating tasks like email creation, sending, meeting scheduling, and customer record updates, Sales Copilot liberates salespeople's time, allowing them to concentrate on higher-priority activities.
Generate insights
Sales Copilot generates valuable insights into customer behavior, including product interests, website visits, and social media usage. This data can be used to personalize marketing campaigns and sales pitches.
Provide personalized recommendations
With Sales Copilot's personalized recommendations, businesses can effectively target the right customers with precise messaging for products, services, and marketing campaigns at the opportune moment.
How does it look?
Sales Copilot can be accessed through the web or the Microsoft Teams app. It is designed to look and feel like a natural extension of Dynamics 365, so salespeople can use it without having to learn a new interface.
How is it helpful for CRM users?
This integration can help them to be more productive, effective, and organized. Sales Copilot benefits CRM[Ui3] users in several ways:
Increased deal closures
By offering customer behavior insights and product/service recommendations, Sales Copilot enhances understanding of customer needs, leading to more successful deals.
Time savings
Automation of tasks like email creation and sending enables salespeople to allocate more time to vital activities, such as customer meetings and deal closures.
Improved organization
Sales Copilot tracks sales activities and provides reminders, ensuring better organization and preventing missed deadlines.
Get Started with Microsoft Sales Copilot
To get started with Microsoft Sales Copilot, you'll need to:
Sign up for a free trial.
Connect your CRM system.
Install the Microsoft Sales Copilot add-in for Outlook or Teams.
Once you've installed the add-in, you'll start seeing Microsoft Sales Copilot's suggestions in your inbox and chat messages. For example, it might suggest follow-up tasks, provide insights into customer behavior, or generate personalized recommendations.
The Future of Sales Automation
Sales automation with AI is evolving quickly, offering tools for task automation, personalized recommendations, and efficient customer relationship management.
Integration between different tools is increasing, and cloud-based solutions are gaining popularity. Microsoft leads the way, investing in AI and integrating sales automation tools with Dynamics 365 CRM.
Expect even more sophisticated tools in the future, driving productivity and revenue growth. Other key players include Salesforce, HubSpot, and Pipedrive.
Conclusion
In summary, Sales Copilot by Microsoft is a sophisticated AI-driven sales automation tool that enables professionals to close more deals and develop deeper client relationships.
At Inclusion Cloud we specialize in utilizing cutting-edge solutions to increase sales productivity and effectiveness. Please contact us if you want to keep ahead of the competition and fully utilize the capabilities of Microsoft Sales Copilot. Let's accelerate your sales journey together and confidently embrace the future of sales!