Pablo has been a part of our team since almost the beginning. With +13 years of experience in the company and the field, he is someone whose opinion is always valuable. He's been in different positions, from junior developer to sales manager and assistant, but he always kept his passion for technology and software development.
On this occasion, we talked about his early years, the story of the company, and what he values most when choosing a team to work with.
Don't miss it!
When did you start your career at Inclusion?
I started at Inclusion in 2009, when I was 24 years old, through the contact of a friend from college. I was studying computer engineering at the University of Buenos Aires.
What was it like to work at that time?
It was great. We worked in a small office, we were boys and girls of no more than 27 years old. We had a Playstation, table football, a grill, and even a couch to sleep on. We were very committed and passionate about our work and we helped each other a lot. The first projects were for web development and app development for apple on IOS.
We felt we were the best: We were working for big clients. We were excited about the projects. We were doing big, high-impact things and we learned from clients. We would hang out in the office until 10 o'clock at night.
Professionally for me, it was an opportunity because I wanted to learn web development and .NET. We were full stack even though it wasn't called that way.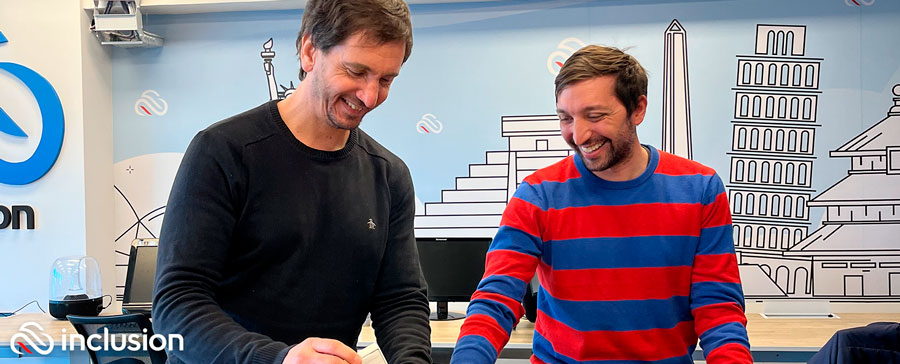 What elements of that culture do you highlight and do you feel prevail today?
The spirit of camaraderie, first of all, and the good vibes. I never saw people being jealous of their work or not wanting to lend a hand. From the beginning, if you had a problem that you couldn't solve, your colleagues would stay after hours to help you without hesitation. In the early days, you felt like you were working in your own backyard.
Although there are many more of us now, much of that remains. The working atmosphere is relaxed, we still listen to music and you can sit down with the managers without any problem as back then. There is closeness and horizontality.
In addition to the above, the commitment to the project. We always lived each project as if it were our own. We used to put phrases on a blackboard, many times about our responsibility for each project and making everything great.
Today, without phrases, we still have that feeling of responsibility for everything we face with autonomy and determination.
In addition, flexibility is still there today. I was able to continue my university studies and finish my degree.
And finally, the company's willingness to help you develop professionally. They always supported me with training. In my case, with a master's degree in Technology Strategy Management, besides different certifications.
What were the milestones in the company that you were able to experience?
Going from being just a few people to a company where there are many people who you don't know.
The partnerships that we were achieving and enriched our scope and capabilities
The quantity and quality of projects
The opening of the company to different markets
and above all:
The growth it has had in the last years in the US.
What is it like to work for 13 years in the same company?
Somehow I feel I've been reinventing myself. I started as a junior full-stack developer, then I was a technical leader with knowledge of .NET, and later I was trained in ABAP development for projects.
At that time, since I had soft skills for sales, I started to accompany salespeople to do pre-sales. Today I lead a team of 10 people. Although I have always been linked to the technical side, it has been a long time since I have been working in the field.
To sum up, I think that these years allowed me to go through several areas, understand the business, develop soft skills that I already had, enhance my ability to adapt to circumstances and scenarios and be able to carry today a backpack of experiences that enriched me as a professional.
---
Are you willing to receive more info and keep reading about the software industry? Subscribe to our blog and check it out here!