As a developer looking for a job, the hiring process can be overwhelming.
It's important to know what companies are searching for and how you can demonstrate your full potential. Here we will guide you every step of the way. We'll provide you with a comprehensive roadmap to follow, so you can land the job of your dreams.
Let's get started!
The Key to Search
When you begin your search for a job in technology, it's key to keep in mind that finding a place where you will fit well is essential. To be successful, the first step is to do your research. Search the Internet, check forums and social media, and ask for referrals from companies where there are open searches. This way, you can ensure that you share the work culture, the expectations that the company has of you, and what benefits they will offer you.
Benefits of remote work for developers
One of the characteristics that took the job of software developers, even before the pandemic, is that it is quite common for them to use a remote work modality as this increases programmer's productivity but is also highly efficient for the companies that demand their services.
Remote work is a great benefit and has even become one of the main reasons for choosing a job in recent years. In addition, this trend has allowed the globalization of the labor market to grow enormously, allowing greater flexibility for employees, a better work-life balance, and better tools for communication between international teams.
In addition to this flexibility, remote work also expands job prospects significantly. However, knowing how to search for remote work opportunities is an essential tool to find your ideal job.
Nearshore opportunities: why look them up
As a developer, being able to work remotely is an incredible benefit. It allows you to finish tasks from wherever you want or need to be. When looking for work, this is an invaluable asset, as it expands your prospects significantly. Knowing how to search is essential to making the most of this advantage.
Working remotely provides you with the chance to seek out prospects not only in your current location but also in other places across the globe. Exploring the job offerings of countries that have a similar time zone to yours grants you the possibility of crossing borders and accessing exceptional job opportunities.
Nowadays, companies located in the United States are looking for talent in Latin America, a demand related to the shortage of talent in tech. With a similar time, zone and a strong cultural and linguistic influence, it is an excellent opportunity for both developers and U.S.-based companies.
The IT Recruiter's Role
Generally, the bridge that connects leading US companies with the best talent in Latin America is the IT recruiter. Therefore, it is important that you know a little more about their task in the selection process:
Recruiters play a vital role in the IT job search by connecting skilled developers with companies in need of their expertise. They are the key for companies to have the best talent and ensure the quality of their employees.
Why are they so important?
They serve as a bridge between job seekers and potential employers, often providing access to job openings that are not publicly advertised. Recruiters leverage their industry expertise to assess a candidate's skills and experience and help match them to suitable IT roles.
In addition, they offer valuable guidance and advice to candidates on how to enhance their chances of landing their dream job. Finally, recruiters also function as intermediaries during the hiring process, helping job applicants navigate complex employment negotiations with confidence.
The lack of skilled IT professionals has made the role of IT recruiters even more crucial in recent years.
To attract and retain the best talent in a highly competitive job market, companies require adept recruiters. As the complexity and specificity of job opportunities rise, a new phenomenon known as "vacancy" has emerged, creating the need for recruiters specializing in personnel search and selection.
The existing skills gap in the labor market underscores the importance of recruiters who can leverage selection tools and techniques to evaluate candidates' skills and knowledge effectively.
That's why it is important to understand how they operate when it comes to the search for new talents, here is a glimpse of their work:
Seek and contact the developer
Recruiters are always on the lookout for top IT specialists, and they're getting creative in their search.
While job boards are a great place to start, you shouldn't overlook the power of social media and IT job platforms. As a developer, you can make sure you're putting your best foot forward by being active on platforms like LinkedIn, GitHub, and Stack Overflow.
Outsourcing in IT
Recruiting teams commonly enlist the services of outsourcing agencies for various reasons, notably:
Access to a larger and more diverse talent pool: outsourcing agencies have a large network of candidates which recruiters can use to hire people with diverse skill sets and qualifications.
Reduced workload: Outsourcing tasks to agencies allows recruiters to focus on other responsibilities while remaining productive.
Expertise in recruitment: Outsourcing firms have recruitment expertise and offer recruiters insights and strategies to select ideal candidates.
Cost-effectiveness: Outsourcing recruitment is more cost-effective for smaller businesses with limited budgets than hiring an in-house team of recruiters.
Faster hiring process: Outsourcing agencies use their expertise, resources, and tools to speed up the hiring process and reduce the time to hire.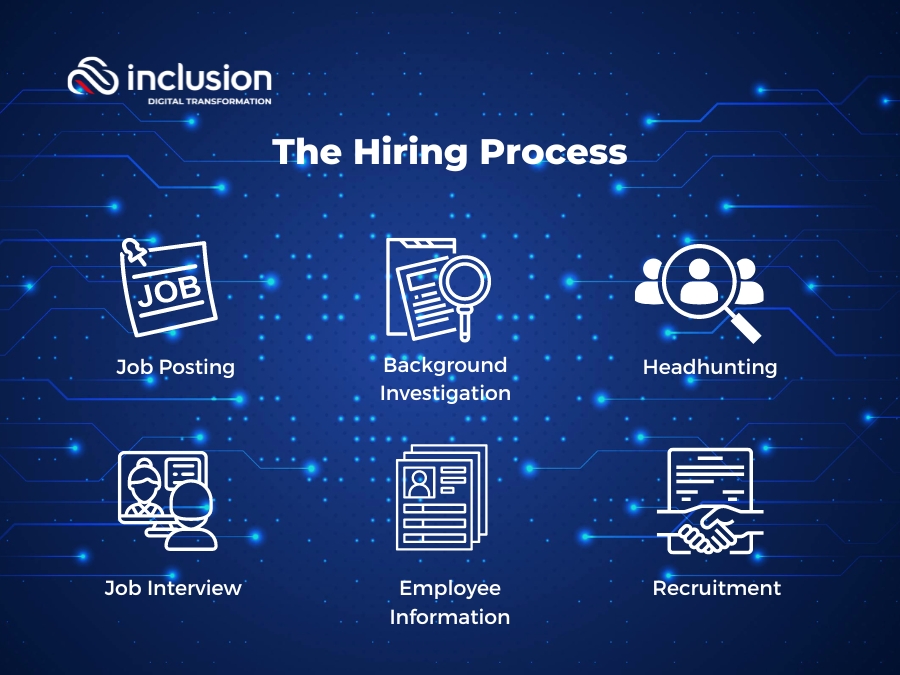 The Interview
Once you have sent your cv and you have received a positive response from the recruiter, the next step is the interview.
It is normal to feel anxious and nervous if you are not prepared, but don't worry, we got you.
So, this is how it's going to go.
Multiple screening methods
The recruiter uses various screening methods for candidate selection, such as resumes, phone screens, and assessments, to quickly identify candidates who possess the necessary technical skills and soft skills, such as emotional intelligence, cooperation, work ethic, and teamwork ethic (we will elaborate on this topic later).
This step is often a phone interview with a recruiter or hiring manager. The purpose of this stage is to get a better understanding of the candidate's background, experience, and interest in the role.
Evaluate the candidate's soft skills
In the search for the perfect candidate, evaluating their soft skills is just as important as assessing their technical abilities.
Effective communication and strong interpersonal skills are critical for successful project management and teamwork. Without these skills, a Software Developer may struggle to collaborate with others or solve problems effectively.
It's important to remember that the candidate will be working closely with team members, providing feedback, and potentially even leading other developers, reason why it is crucial to evaluate their soft skills during the recruitment process to ensure they're the right fit for your team.
To assess soft skills, recruiters conduct:
Behavioral and situational interviews
Questions about the candidate's experiences and work style
How would they handle different work situations?
Recruiters may also conduct reference checks to:
Verify the candidate's skills
Gain insights into their work style and problem-solving abilities
Assess the candidate's technical skills
Evaluating a candidate's technical skills is a critical part of the recruitment process, but it's also essential to assess their problem-solving abilities and creativity. Candidates who can identify where to find answers to questions prove a positive attitude toward learning and development – crucial in the ever-changing IT industry.
To evaluate technical skills, IT professionals can use methods such as technical interviews, remote tasks, and HR/business interviews. Conversely, personality testing, code samples, and pair programming are less popular.
Recruiters assess technical skills through the:
Coding challenges
Technical tests
Recruiters also review work samples and portfolios to evaluate:
The candidate's proficiency in specific technical skills
The ability to produce high-quality work
Developer's punctuality to meet deadlines
The call
Candidates who perform well on the technical assessment are typically invited for an online interview. This stage usually involves a series of interviews with different members of the team, including the hiring manager, senior engineers, and other stakeholders.
The purpose is to assess the candidate's fit for the role and the company culture.
Here are some common types of questions that may be asked during an in-person interview for a developer role:
Technical questions
These questions are designed to assess your technical skills and knowledge. You may be asked to write code, solve coding problems on a whiteboard or a computer, or explain a complex technical concept. Some tips for answering technical questions include:
Take your time to understand the problem and ask questions if necessary.
Break down the problem into smaller parts to make it more manageable.
Explain your thought process and reasoning behind your solution.
Test your code or solution to make sure it works as expected.
Behavioral questions
These questions are designed to assess your personality, work style, and communication skills. You may be asked to describe how you handled a difficult situation, how you work with a team, or how you prioritize tasks. Some tips for answering behavioral questions include:
Use the STAR method (Situation, Task, Action, Result) to structure your response.
Be specific and provide examples from your previous work experience.
Highlight your strengths and demonstrate how they will be relevant to the job.
Culture fit questions
These questions are designed to assess your fit for the company's culture and values. You may be asked to describe your work style, your approach to collaboration, or your passion for technology. Some tips for answering culture fit questions include:
Research the company's mission, values, and culture before the interview.
Highlight your interest in the company's mission and explain how you align with its values.
Be honest and authentic in your responses.
In addition to these types of questions, you may also be asked to provide examples of your previous work, share your ideas and suggestions for improving the company's products or processes, or participate in a group exercise or coding challenge.
Final decision and feedback
As a developer going through the hiring process, it's essential to understand what happens after your interviews. Here are a few things to keep in mind:
After the interviews, the hiring manager will review feedback and assessments from all interviewers to evaluate your technical skills, experience, and cultural fit.
Based on this feedback, the hiring manager will decide whether to proceed with your application or not. If selected, you'll receive a job offer.
If you're not selected, the company should provide you with constructive feedback on areas where you can improve for future interviews.
Bear in mind that the customer participates in the final decision.
Feedback can be valuable as it helps you develop your skills and increase your chances of success in future job searches.
Keep in mind that the customer participates in the final decision. Receiving feedback also helps to maintain a positive relationship between you and the company, which could benefit you in the future if you decide to apply for open positions again.
Some Helpful Tips
Now that we know what the hiring process will be like, you'll need to prepare to get the job you want.
In the next section, we'll walk you through the most important steps.
Identify job requirements
When preparing to apply for a job as an IT developer, it's important to first identify the job requirements.
This involves carefully reviewing the job posting and researching the company to understand the necessary technical and soft skills.
Make an eye-catching resume
Your resume is your first impression.
Create a resume with the right keywords to stand out to recruiters and pass ATS filters.
Ensure a professional and easy-to-read resume with bold headings, bullet points, and spacing for employers to scan.
Highlight relevant positions, academic backgrounds, and skills that align with job requirements to demonstrate suitability.
Prepare for the interview
It's your chance to showcase your skills, experience, and personality to the hiring team. Preparing for the interview can help you feel more confident, make a positive impression, and increase your chances of getting the job.
Keep things in check
Keep in mind that practicing your English is a priority, both orally and in writing. Do coding exercises in English and practice your answers and problem-solving. You can also help yourself with grammar correction tools such as Grammarly, and speaking tools such as Duolingo, among others.
It's important to be organized and balanced with your work schedule, the reason why it's recommended the use calendar apps that incorporate the dates of your country of employment. Some suggested apps for this purpose are Calendly or Asana.
The Importance of Soft Skills
Soft skills refer to interpersonal skills that enable individuals to interact effectively with others. These skills are essential in creating a positive work environment and building strong relationships with colleagues and clients.
These are some of the soft skills that will be most in demand:
Communication skills
Problem-solving
Teamwork
Time management
Self-learning
Accountability
Conclusion
The hiring process is still a process, but that doesn't mean it should be as difficult as it appears to be. We hope this guide has been helpful and has cleared up any doubts you may have had.
At Inclusion Cloud, our mission is to provide fantastic opportunities for developers in the market to achieve their career goals; we are the bridge that connects the best talent in Latin America with leading companies in the world. Click here if you want to know more!