On March 8th we commemorate International Women's Day, celebrating all those who still seek equity and equality at tech. The theme for this year is DigitALL: Innovation and technology for gender equality, for which we celebrate the women and girls who support and promote the advancement of technology in business and digital education.
As technology advances and job opportunities keep pace, organizations must nowadays be able to offer equal rights and opportunities to their employees, without any type of discrimination.
The UN hosts the International Women's Day event this year on March 8th, and the event will bring together entrepreneurs, technologists, innovators & gender equality activists to highlight stakeholders in improving access to digital resources.
Women in Tech Nowadays
Women in STEM companies today face a difficult situation due to the lack of opportunities and resources in comparison to their male counterparts. This is especially true in the technology fields, where women are still a minority. However, thanks to innovative minds who are constantly pushing the envelope, women are gradually starting to gain some share in the tech field.
Currently, the female presence in the technological world is increasing; women represent 33% of the tech-related workforce. This reflects a great advance in the inclusion of women in this area, and as they are occupying more functions. However, according to various reports and statistics, there is still a lot to do.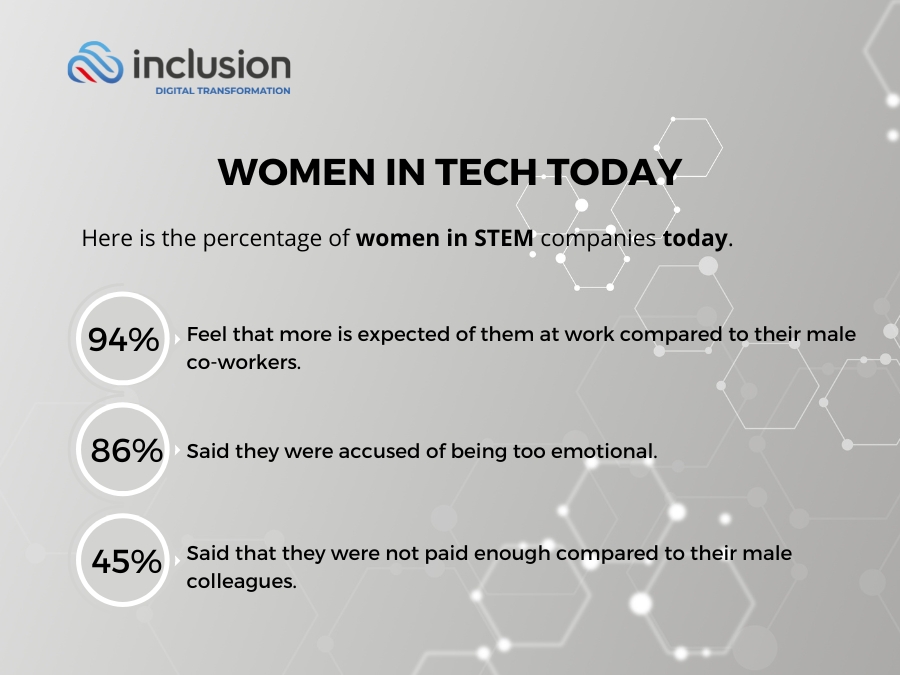 Struggles of Women in Tech
According to Navsite's research survey of 100 women about the day-to-day realities they experience working in tech, we can observe that:
94% of women feel that more is expected of them at work compared to their male co-workers.
75% of women report that they (and other women they work with) are constantly compared to their male colleagues, while they are asked to handle more tasks than men.
Many of them feel overlooked and discounted in their workplace. 74% believe that their opinions are dismissed during ruthlessness because of their gender and 61% believe they were passed over for a promotion or lost a job opportunity because of their gender.
86% said they were accused of being too emotional (even in other terms) in the workspace.
A total of 45% of women said that they were not paid enough compared to their male colleagues.
The burnout felt by women in technology: with a 38-point drop in both career and personal satisfaction, more than half of racially and ethnically diverse women in the industry rate their work/life balance as extremely low, resulting in 38% of them planning to quit their jobs in technology over the next two years.
Studies indicate that, as a result of gender bias, women working in technology feel they must work harder than their male counterparts to compensate for the imbalance in the numbers of women-men. Therefore, inclusion measures are necessary for tech companies since they are missing out on great capabilities and ideas that could have a high potential in job performance.
What Can Technology Companies Do?
Among the changes that IT companies can adopt to change this situation, we will name a few:
Transparent and equitable salaries
This means ensuring women are given equal opportunities for promotions, pay, and job assignments. Companies could also ensure that their recruitment processes are free from gender bias and that they actively seek out female candidates.
Bias recognition and management
To keep the workplace fair and friendly, employees can be encouraged to educate themselves about microaggressions and subconscious biases. In turn, it can be made an undervaluation for any reason inherent to the employee's identity. Also, avoid and eliminate discriminatory or alienating behavior toward their peers.
Recognize holidays from all cultures
Culture is part of people's identity, so it is important to recognize and show respect and flexibility.
Recruit diverse talent
Gender barriers can be broken down with early education in software development skills, industry exposure, and greater flexibility in work practices, maintaining a diverse talent pool.
Remain aware and consistent
It is essential to be able to create healthy, thriving, and diverse environments, which leads to investment in the growth and psychological safety of all employees. In addition to learning, normalizing mistakes, and being attentive to employee feedback contribute to cultivating empathetic and enjoyable environments.
Investing in equity
Tech companies can invest in initiatives that support women in the tech industry. This could include sponsoring events and conferences focused on women in tech, and creating mentorship programs for female employees; companies could create and carry out programs focused on women to connect them with new opportunities and offer visibility and incentives so that they can join the labor market and advance their careers.
What Benefits Can Be Expected with More Equity?
It is not news that women are underrepresented in STEM industries with only 20% of technology jobs held by women. That being said, it is important to consider the results the companies could get if they do something about it:
Inclusion means more commercial profits
Their innovative and distinctive way of thinking results in better problem-solving, which translates into higher customer satisfaction, thus maintaining and increasing the number of people potentially interested in the company's product. According to a study by the Technical University of Munich and Boston Consulting Group, it was shown that increasing the diversity of leadership teams leads to improved and greater innovation and financial performance.
It is also worth mentioning that a company's diversity and inclusion exponentially improve its reputation, which is also a positive factor for the latter.
Become an inspiration for younger women
Setting an example and motivating young women to enter the tech world is imperative. Being able to give women the opportunity to grow up the corporate ladder sets an example that is achievable and plausible for young women aspiring to work in tech companies.
The lack of examples to follow or guidance can be a great demotivation, and disinterest and even result in the loss of staff. It is paramount to set an example and set a record that it is possible to go far in tech, regardless of gender or race. To help a company achieve its full potential, it is necessary to make gender diversity a priority.
Because we live in a global and deeply connected world, the more diverse enterprises & institutions can perform better.
We asked our CPO (Chief of People), Cecilia Sanzarello, what advice she would give to young women looking to enter the technology industry. Her answer was:
"I think I would say the same to young men and women: Give yourself the opportunity to make mistakes because learning from those mistakes is key to being better every day. (…) Try to find their passion. Going from the general to the particular to understand the whole, how it is made up, what are the parts that make it up, and what importance each of them has within it. And not getting frustrated is essential."
She also added that "Today we are on a good path. It seems to me that part of this inspiration must come from the academic field. It is key that schools incorporate programming subjects into their curricula".
Better morale
If the workplace is balanced and equitable, it will create an environment that allows employees to achieve even more. By showing that no gender or race preferences are made, the company sets a record that it is inclusive and gives job opportunities based on performance and results.
Problem-solving
While the ability to solve problems does not fall to a particular gender, better problem-solving requires innovative thinking and fresh ideas. According to NCWIT, in 2021 only 19% of women worked as computer software engineers and 20% as computer programmers. This leaves 80% of the work in hands of men.
Counting on the innovative and different perspectives of the female employees, better results and solutions may be achieved.
Therefore, companies could create and carry out programs focused on women to connect them with new opportunities and offer visibility and incentives so that they can join the labor market and advance their careers.
The world must be shaped for the people who live in it, and that includes women and girls around the world, our priority is to make it a fair and welcoming place.
That's why we encourage women today and every day in tech to join our team, check out our careers here!